WHAT IS AVANT GUARDIANS?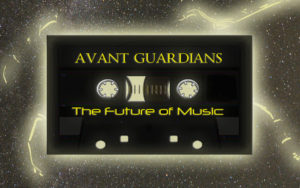 "The avant-garde (from French, "advance guard" or "vanguard", literally "fore-guard") are people or works that are experimental, radical, or unorthodox, with respect to art, society, and culture."
"The avant-garde pushes the boundaries of what is accepted as the norm or the status quo, primarily in the cultural realm."
"Many artists have aligned themselves with the avant-garde movement and still continue to do so…"
Source: https://en.wikipedia.org/wiki/Avant-garde
THOUSANDS OF YEARS FROM NOW, AFTER THE FALL OF CIVILIZATION, ALL HUMANITY IS ENSLAVED UNDER ONE RULE OF LAW. THIS NEW LEGAL CODE HAS AS ITS FOUNDATION, ONE CENTRAL IDEA: ARTISTIC EXPRESSION IS THE PASSION OF ANARCHY AND THE AUTHOR OF CHAOS.
ON THE BASIS OF THIS NOTION, ALL FORMS OF ARTISTIC EXPRESSION ARE OUTLAWED.
VIOLATORS OF THIS LAW ARE SUBJECT TO DEATH. HOWEVER, A FUTURE PROPHECY TELLS OF THE COMING OF A TIME-TRAVELING MUSICAL MESSIAH WHO WILL LIBERATE HUMANITY.
USING HIS GUITAR AS AN INSTRUMENT OF WAR, THIS VALIANT VIRTUOSO MUST OVERCOME HIS ARROGANCE AND LEAD A RESISTANCE MOVEMENT IN A BAND OF WARRIORS CALLED…
AVANT GUARDIANS